This week, US media have contained many glowing obituaries of a 91-year-old medical researcher called Mathilde Krim, who in the early 1980s played an apparently huge role in publicizing and destigmatizing the then-new disease of HIV/AIDS and in mobilizing funding for NGOs and research centers working to understand the disease and treat its many victims. Dr. Krim died on January 15.
The New York Times, for example, carried this obituary, covering more than half a page, that devoted nearly all its column inches to the many contributions Dr. Krim had made to AIDS research.
What that obit referred to only in passing was the role she had played in immediate post-1945 Europe as a gun-runner for the Irgun– described there only as part of the "Zionist underground" rather than (as would have been more accurate) an already well-known terror group.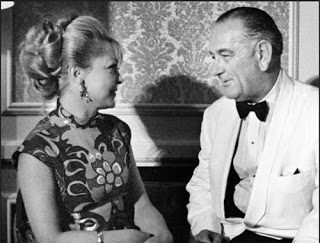 But neither the NYT nor any other Western MSM outlet I have seen/heard has made any mention of the role Mrs. Krim played as a very close confidante to Pres. Lyndon B. Johnson during the crucial days leading up to and during Israel's "Six Day War" of 1967 again its Arab neighbors.
In those days, Mrs. Krim's husband (her second) was Arthur B. Krim, a prominent Hollywood lawyer who was Chair of the Democratic National Finance Committee. Conveniently, the Krims had a ranch in Texas right next to Pres. Johnson's; and it was a barely hidden secret in leading government circles in Israel and the United States at the time that Mrs. Krim was extremely close to Lyndon Johnson.
In the days leading up to the war, the many forms of "signaling" conducted between Washington and Tel Aviv were extremely important. Israel's Labor Party PM, Levi Eshkol, needed to win support from Washington for the strategy he pursued in the lead-up to this war, which he and his generals were planning in exquisite detail in those days. And he needed reassurances from Washington that Pres. Johnson would back him, before he and his generals finally launched the "blitz" against the Arab armies that destroyed nearly all their capabilities in the first hours of the war. Mrs. Krim was almost certainly one key channel for those messages. She and Johnson were at their ranches together in the days leading up to the war (with several in-person visits and phone calls recorded between them); and then she went to Washington DC when he did, once the war broke out.
Mrs. Johnson, meanwhile, was suffering from what was described as a massive headache, and stayed in Texas.
More details about Mathilde Krim's relationship with Johnson in that crucial period can be found in Donald Neff's 1985 book Warriors for Jerusalem: The Six Days that Changed the Middle East. I don't have a copy to hand but shall look for one shortly.
The huge role that Mrs. Krim played in 1967 is well-known to everyone who has seriously studied US-Israeli relations at that time. After all, she was an integral part of a well-oiled pro-Israeli influence movement at the heart of the US political system, and the DC-Tel Aviv signaling process that she was part of worked strongly in Israel's favor to transform not just the Middle East but the whole shape of global politics. (It also led to the misery of the people of the occupied West Bank, including East Jerusalem; Gaza, and the Golan Heights: all of whom continue until today to live under the military occupation rule initiated by that war.)
So surely, that role Mrs. Krim played in the events of May-June 1967 should have received some mention in the news media this week? That it has not, thus far, probably tells us a lot about the extreme skittishness with which the Western MSM continues to address any topics related to the deep entanglement of so much of the US political elite– especially the Democratic Party– with their counterparts in Israel.